Landis Rath & Cobb Commemorates 15th Anniversary by Giving Back with 15 Days of Service and $15,000 Contribution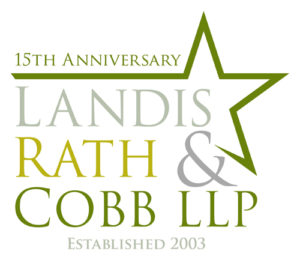 Wilmington, DE (November 7, 2018): Landis Rath & Cobb LLP is celebrating its 15th Anniversary by supporting its community through monetary support and volunteer time donated to Delaware charities selected by firm attorneys and staff.
Located in downtown Wilmington since its inception, Landis Rath & Cobb, through its founding partners Adam Landis, Dan Rath and Rick Cobb, provides clients with sophisticated commercial bankruptcy and corporate litigation services outside the formal structure of the large firms. LRC and its partners are consistently rated among the top firms in its practices by Chambers USA, Best Lawyers in America, and U.S. News Best Law Firms.
"Rather than throw a party, we felt the most meaningful way to celebrate 15 years was to make donations and contributions that benefit our community and assist in delivering services to those most in need," said Adam Landis. "It is gratifying to me, Dan and Rick to see LRC grow into a recognized national force on the commercial bankruptcy and corporate litigation scene during this decade and a half."
$15,000 to Delaware's Combined Campaign for Justice
LRC is contributing $15,000 to Delaware's Combined Campaign for Justice (CCJ).
Since 1999, the CCJ, a partner of the Delaware State Bar Association, has established a coordinated fundraising approach to support Delaware's three nonprofit civil legal aid agencies: Community Legal Aid Society, Inc., Delaware Volunteer Legal Services, and Legal Services Corporation of Delaware. Combined, these partners increase the availability of civil legal services to disadvantaged people in Delaware by increasing the resources available to fund legal services, ensuring statewide and coordinated legal representation to:
Reduce domestic violence by helping victims obtain protective orders;
Prevent homelessness by defending eviction and foreclosure actions;
Eradicate housing discrimination through enforcement of state and federal housing discrimination laws;
Advocate for the rights of children with significant disabilities in their schools and communities, and with the government agencies that serve them;
Protect disadvantaged people with consumer cases that involve exploitation and fraud.
Nearly 25% of the three agencies' budgets come from donations through the CCJ. Over 12,000 clients (5,000+ cases) are helped each year. A CCJ investment study last year shows that for every dollar invested in legal aid, $7 is returned to our community.
15 Days of Service
 In deciding on the best way to commemorate the anniversary, LRC polled lawyers and staff in selecting a variety of legal, civic, and charitable organizations in the region to contribute time and resources. LRC's efforts include volunteering at:
the Nativity Preparatory School in Wilmington;
the Sunday Breakfast Mission in Wilmington;
St. Patrick's Center in Wilmington;
Office of the Child Advocate; and
the Delaware Humane Association.